A constructible model means realism and less rework.
With Tekla you can work with any structure regardless of material, size or complexity. Because the software integrates design and detailing with fabrication and project management, you can  streamline the entire precast workflow from bidding to delivery.

Tekla allows accurate estimation and thus winning more bids and increasing profits. You can detail any precast concrete structure, improve document production, plan and control fabrication and find potential problems with your constructible model.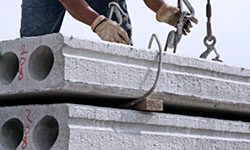 Tekla Structures for Precast Concrete - Tekla Structures is the most accurate and comprehensive parametric 3D Building Information Modelling (BIM) tool on the market. The Precast Concrete Detailing configuration allows you to interface with production management systems (ERP) and precast and rebar production machinery (CAD-CAM). The information-rich models allow you to coordinate design, fabrication and site operations and ensure delivery according to the schedule.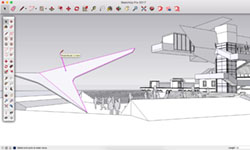 SketchUp Pro provides 3D modelling, layout, visualisation and communication tools all professionals involved in building construction programs. Structural engineers, fabricators and detailers use SketchUp Pro to communicate complex structures visually, streamlining collaboration with other project stakeholders.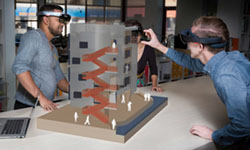 SketchUp Viewer and HoloLens Bring 3D models to life in mixed reality, and step into a powerful new way to explore, understand, and share your work. SketchUp Viewer and the Microsoft HoloLens allow you to interact with 3D models beyond the confines of a 2D computer screen. This allows you to improve quality, transparency and collaboration across the Design-Build-Operate lifecycle of buildings.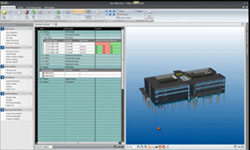 Vico Document Controller allows you to bring in and manage multiple pdf drawings and 3D models to keep track of your changes in your project and properly assign RFIs. Keep track of changes, and save time and money by having your drawings and models organised in a structured project registry.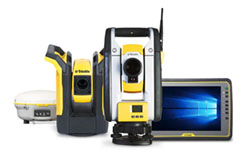 Layout solutions allow you to bring the accuracy of a 3D model right into the field. They can also cut the time and staff required to layout. Trimble has many layout tools designed around specific tasks, so see the full list to find the best for your needs.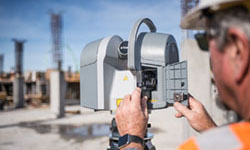 3D Laser Scanners allow you to capture detailed data on the worksite much faster than traditional methods. All of the details are captured, meaning you don't need to go back to the field. We provide a range of scanners with different specifications to suit your needs.