BIM to the Rescue — The Restoration and Rebuilding of Notre Dame
One of the most iconic symbols of architectural beauty and history in Paris, the Cathedral of Notre-Dame was gutted by fire on Monday, April 15, 2019. The fire inside the 850-year-old cathedral in Paris spread quickly throughout its largely wooden structure before it could be controlled. A heritage monument that took almost 200 years to build was partially destroyed in just minutes.
While many of the objects inside Notre Dame were saved by the 400 or so firefighters who tackled the blaze, the cathedral's spire, which was built in 1860, fell during the fire. There was also extensive damage to its roof, which includes wood from as far back as 1160, making it one of the oldest roofs of its kind anywhere in the world.
While this is deeply saddening for everyone who loves the great building, there is a silver lining to this dark cloud: France has already vowed to rebuild Notre Dame Cathedral. And, with today's construction technology, bringing the architectural icon back to its former glory is simply a matter of time.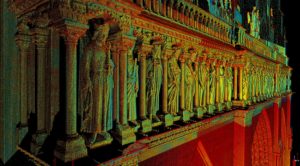 Specifically, the combination of Building Information Modeling (BIM) and 3D laser scanning technology will make it relatively quick and easy to rebuild and restore the great cathedral.
Notre Dame's saving grace
In 2015, architectural historian Andrew Tallon used a 3D laser scanner to map the entire cathedral and created a precise image of the building that lives on in digital format. This detailed scan, called a point cloud, will provide the foundation of the entire rebuilding and restoration project, as it can show exactly what the building looked like — inside and out — so everyone working to restore it can coordinate their efforts and work toward the same result.
What is 3D scanning?
Laser scanning, as it's used in construction, is a 3-step process:
Scan – Using a 3D laser scanner, millions of measurement points are rapidly collected and saved. Once measured, these points resemble a "cloud" and provide an accurate 3D representation of the area that was scanned. To create a point cloud of a large, irregular space like Notre Dame, the scanner would have been set in several different locations, creating overlapping point clouds that would need to be combined.
Register – Once a series of point clouds is uploaded from the 3D laser scanner, scanning software can then "stitch" together the individual scans into one composite 3D point cloud model. This is called "registering" the scans. Once registered, the composite 3D point cloud model can be either exported to other applications as-is or detailed using modelling software to create intelligent modelled objects.
Detail – Detailing a 3D point cloud model involves using detailing software to change the various components the scanner captured into data-rich BIM components that can then be manipulated in a thousand ways to inform construction documentation, fabrication, erection and installation, and much more.
How can 3D scanning save Notre Dame?
In 2015,  Tallon completed the first and second steps in that process. That gives restoration contractors a dramatic head start, as they can simply detail the existing 3D point cloud to generate a fully-functional constructible model for use throughout the rebuild.
3D scanning is routinely used throughout the construction workflow, both on new builds and remodels or restoration projects. Prior to restoration, scanning a structure can help record, uphold, and preserve the appearance of existing building elements. Comprehensive 3D site models created from these scans can aid in the design and construction process to help plan the details of a new structure. In the fields of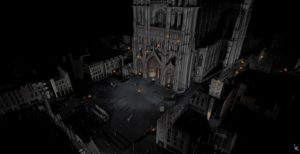 restoration and heritage, they can also record spatial and physical information about a building or help conservationists pinpoint issues and find solutions.
Digital preservation is a related concept in heritage and archaeological disciplines. It uses 3D scanning in conjunction with digital film and photography to build a complete representation of a site or structure. This allows archaeologists not only to view the site as it is now, but also to digitally reconstruct how it would have looked hundreds or thousands of years ago.
While the damage suffered by the Cathedral of Notre Dame was regrettable, it's exciting to realise that the effective use of modern construction technology can essentially turn back time for the famous building. We look forward to seeing it restored to its former glory, thanks in part to BIM and 3D laser scanning technology.
Article courtesy of Construction Industry Resources
https://buildingpoint.com.au/wp-content/uploads/2022/01/BPA_S-Logo_Blue-300x225.png
0
0
Lesley Brigden
https://buildingpoint.com.au/wp-content/uploads/2022/01/BPA_S-Logo_Blue-300x225.png
Lesley Brigden
2019-05-30 09:33:24
2022-05-23 10:42:36
BIM to the Rescue — The Restoration and Rebuilding of Notre Dame