Your data. Your work site. Together, at last.
Trimble XR10 with HoloLens 2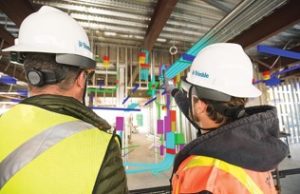 The Trimble XR10 with HoloLens 2 brings mixed reality right to the front line, enabling workers in safety-controlled environments to access model data directly on site.
Together with Trimble's suite of mixed reality software and services, the device enables new field-oriented workflows to leverage 3D content in daily work tasks to improve efficiency, productivity and quality of work. The Trimble XR10 is tailor-made to bring state-of-the-art mixed reality to where your work gets done.
Sign up below to be the first to know as more information becomes available.

Designed with the field in mind
Sporting a wider field-of-view, improved usability and a unique, flip-up viewscreen, the Trimble XR10 makes mixed reality work for you. The Trimble XR10 will have all of the same technical benefits of Microsoft HoloLens 2, learn more.
Leveraging the cloud-based collaboration platform, Trimble Connect for HoloLens, workers are now able to realise the true value of their constructible 3D models and existing workflows in Tekla, SketchUp, Revit, SysQue, and more.