Trimble XR10 is a customised hardhat with a built-in HoloLens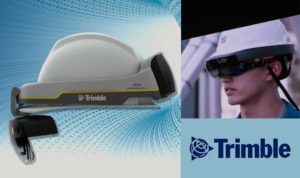 Microsoft announced the latest version of its HoloLens mixed-reality headset – HoloLens 2 – at the Mobile World Congress in Barcelona. The software giant also announced a customisation program for the HoloLens 2 – which already is being used by the company's first partner Trimble to build a hardhat with the headset built into it.
The customised hardhat, named the XR10, gives construction works a heads-up display on the site. "The Trimble XR10 with HoloLens 2 brings mixed reality right to the front line, enabling workers in safety-controlled environments to access model data directly on site," Trimble wrote in its website.
"Trimble Connect for HoloLens utilises mixed-reality technology to take your 3D content off the screen and into the real world," Microsoft wrote in a post describing the advantages of using Trimble's technology. "It provides project stakeholders with enhanced 3D design review, coordination, collaboration, and project management processes." "Built on the cloud-hosted Trimble Connect collaboration platform, Trimble XR10 is a new way of working with AECO models throughout the building lifecycle, from design to demolition," the tech giant added.
The Trimble XR10 leverages Trimble Connect for HoloLens to let workers realise the true value of their constructible 3D models and existing workflows in Tekla, SketchUp, Revit, SysQue, and more. The device also sports a wider field-of-view, improved usability, and a unique, flip-up viewscreen.
Founded by an ex-Hewlett Packard engineer, Charlie Trimble, the Silicon Valley-based company Trimble partnered with Microsoft in 2015 to develop a hololens using Microsoft holographic technology to bring BIM (Building Information Modeling) out of the computer screen onto the real construction site. Now, with XR10 having fulfilled the long-cherished dream, Trimble is all set to make a significant impact in the AEC industry in time to come. The headset will be available at the same time as the regular HoloLens 2, the companies confirmed.
Article courtesy of CIO Bulletin
https://buildingpoint.com.au/wp-content/uploads/2022/01/BPA_S-Logo_Blue-300x225.png
0
0
Lesley Brigden
https://buildingpoint.com.au/wp-content/uploads/2022/01/BPA_S-Logo_Blue-300x225.png
Lesley Brigden
2019-05-14 07:23:51
2019-05-14 09:03:16
Trimble XR10 is a customised hardhat with a built-in HoloLens